Dyutima is one of those people who gets things done. Like really gets things done.
I still can't believe that within less than 12 months of picking up a DSLR, she'd mastered photography technique, found her style and started getting paid for her work.
FPP gave her so much confidence to chase her dream clients and the know-how to educate on her services and licensing.

Her results were inspiring to the whole group and a real testament to what hard work and direction can uncover.
Let's celebrate Dyutima's results! ~ Rachel


Two Loves Studio Student Success Story - Dyutima Jha
They say 'you don't know what you don't know' & that's where I was before Food Photography Pro. I felt like I knew what I wanted through my business but did not know how to go about it.
Having run projects during my career as an architect, I had an idea of the different components of running a business but was clueless on how to piece it together.
I did not know how to approach clients, price my work, negotiate bids & even how to deliver photos after the shoot.
My confidence to run a business was low. I felt like I'd put myself in a difficult situation & probably made a mistake.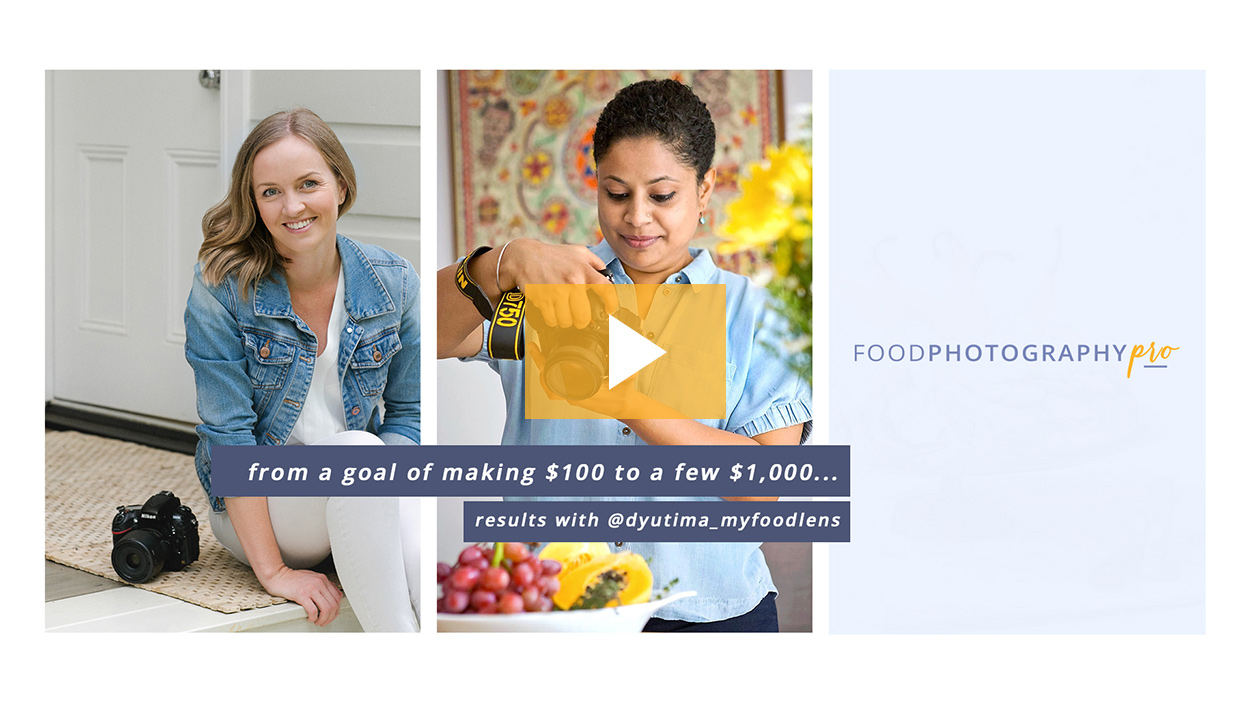 Click to watch Dyutima's results
I felt like I knew what I wanted through my business but did not know how to go about it.
The fear of this lack of knowledge made me hesitant to pitch to clients or even price my work fairly. I constantly felt overwhelmed & the lack of confidence to execute a job professionally, at par with others in the industry.
I did photography for clients either in return for products or a small fee, working harder than the returns.
This was beginning to take away my trust in being able to run a business successfully & profitably.
© Dyutima Jha


It was a bible for anyone who needed the know-how to launch, run and succeed at a photography business.
The timing of FPP couldn't have been better. I'd recently launched my business, was just about to start one job, in the midst of negotiating another & being approached for a third.
All clients had different requirements because they had completely different profiles. Having struggled to try to find information on the web & using not-so-good resources, this course included everything I was looking for.
It seemed like a bible for anyone who needed the know-how to launch, run & succeed at a photography business whilst keeping a positive mindset.
Through this course, I gained the confidence to price my work based on the type of client & commission, especially including licensing costs.
I learned about negotiating with clients, educating them when necessary, talking about the value of licensing and going for my highest bid.
I also learned how to successfully create personalized pitches for clients and how to enter into relationships with both, local & international brands.
And then how to create an action plan & achieving it on time. Being able to do twice the amount of work in a week through efficient task management.
©Dyutima Jha


Learning how to price my work was empowering.
Learning how to price my work was empowering & the part about licensing was an eye-opener.
Understanding the process to smartly calculate a licensing fee for each client definitely made me fist pump but above all, the lesson on pitching to clients, realizing what made a good pitch & how to build a professional relationship with clients was one of my favourites.
After receiving my quotation for the commission, the client, a huge brand, expressed their interest in limiting the scope of the license & bringing the fee down by half.
I was able to successfully put across the value of the license I was offering, how it fitted the purpose of the project & how it would give the client maximum flexibility to use their content.
The client was convinced & approved the fee. Yay!
As a newbie business owner, I was struggling to piece together my business plan, goals and actions.
FPP gave me the knowledge & tools to put together a practical business model & start thinking like a business. It would have taken me years of work to gather all this information by myself.
This course not only saved me hours of research but also an investment in not-so-great resources.
© Dyutima Jha

I hope to put these skills to use, customize them per my business model & have a solid foundation for my business.

I look forward to building professional & healthy relationships with brands while maintaining a steady income & forever keeping an open & creative mindset.
© Dyutima Jha
Mind-blowing is the one word I would use, to sum up, Food Photography Pro Mastermind
Empowering, enlightening & exceptional in every respect.
FPP has been one of the best investments I have made for my business for it has given me the confidence to approach clients with a better idea of what to say & ask of them.
© Dyutima Jha


Where To Find Dyutima Online
An architect turned food stylist, photographer & recipe curator, my motto is – 'put your best food forward'.
Driven by an architectural background, I love to create artistic yet modern compositions of food & present them innovatively capturing their beautiful colors & textures in the best possible light.
My Website, Portfolio and Blog https://myfoodlens.com
Pinterest Other https://www.facebook.com/myfoodlens/
Instagram https://www.instagram.com/dyutima_myfoodlens